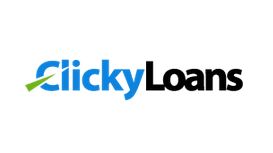 We are able to proudly offer a unique service that pairs customers with reliable and trustworthy short term lending companies. We are able to offer a valuable assistance program to our customers so that they can get the money they need on a timely basis. From time to time it is impossible to avoid a financial shortfall, and instead of judgment we offer you a perfect match to get the funds you need today.
Once again, bear in mind that ClickyLoans is not a lender or lending company. We offer all matching services free and all terms and conditions must be agreed upon solely by the lender and you. It should also be considered that every lender has their own lending policies such as loan amounts, repayment schedules, loan APR, etc.
ClickyLoans simply acts as a mediator that helps you find the right lender. Once an application is submitted and a short term loan lender is identified you will be directly forwarded to the lender's website where it is recommended you appraise the terms and conditions.
Most of the time a lender will contact you to finalize the loan, although each short term lending agency is different. The lender may choose to contact you via text message, telephone, email, or other viable communication format. Make sure to reply efficiently to ensure that the funds can quickly be transferred to your bank account before the close of the business day.
Reviews and Ratings
We do not have any reviews about Clicky Loans available right now.